Cranberry is a stable of thanksgiving, and not surprisingly there are quite a few patents on processing and serving cranberries.
However one patent application that went nowhere was Patrick Kelleher's application on CRAMONNAISE a pre-packaged combination of CRAnberries and MayONNAISE. Patrick abandoned his application after the Examiner found prior art recipes for his dubious creation.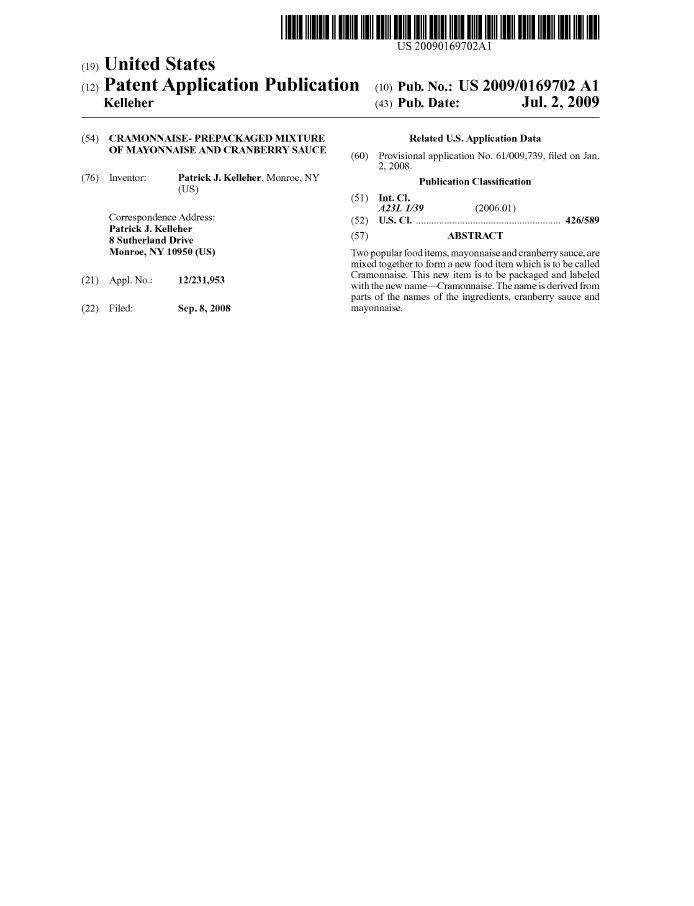 Not surprisingly, more successful cranberry technology has come from Ocean Spray. In 1960, Ocean Spray received U.S. Patent No. 3142577 on a Process for Preparing Jellied Cranberry Sauce, followed in 1962 by U.S. Patent No. 3,023,108 for a Process for Preparing Cranberry Sauce, and in 1965, by U.S. Patent No. 3,360,379 on a Process for Preparing Whole Cranberry Sauce.
Of course its no use making cranberry sauce without a way to serve it. U.S. Patent No. D853200 covers a Cranberry Sauce Serving Container: